What is TeamSpeak?

Teamspeak.de is the German site for everything having to do with Teamspeak 3. We offer free downloads of client, servers and tools for all systems. 

We explain what Teamspeak 3 is and what makes it so great and spare no cost or effort to help if necessary. You can reach us in case of problems free of charge by phone, or by using our live chat. Every user can order one free Teamspeak 3 server for a week and test our 4Netplayers service entirely without obligation.
Teamspeak-News
27. October 2017, 18:00
4Netplayers TS3 Badge
We have a special feature today for all Teamspeak 3 clients of 4Netplayers. As the first ATHP provider, each owner gets their own badge. This badge can be seen on any server around the world, no matter where you connect. Each existing client can pick up one code on the URL. Every new order will also receive a code. Only while supplies last!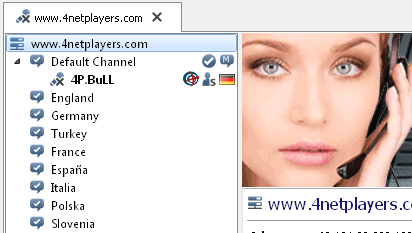 A 4Netplayers Teamspeak 3 badge is a global icon for Teamspeak 3. Once you're on any Teamspeak 3 server, this icon will appear next to your name.
To use the 4Netplayers Teamspeak 3 badges, you will need an account on
www.myteamspeak.com
. Simply create an account and then go to the "Dashboard". There you will find the menu item "Redeem Badges". Enter the code you received from us there. This will give you your badge. Then go to Extras -> Options in your Teamspeak 3 Client and log into myTeamSpeak with your login information. Thereafter, this icon will be displayed on each server next to your name. If you already use myTeamSpeak, you can redeem the code directly in your Teamspeak 3 Client under myTeamSpeak.
12. January 2017, 18:53
TeamSpeak Client Update 3.1.0
The developers of TeamSpeak are now also jumping onto the cloud-bandwagon and have released a new update for your client! It is now possible to immediately synchronize your identities, bookmarks, add-ons, keyboard shortcuts, and whisper settings across all PC's. To do this, a new service called "myTeamspeak" was revealed.

Moreover, an IPv6 support has been added; prerequisite for this is a server, with a minimum version of 3.0.13.6. During this process, substantial net-code was adapted and improved, in order to achieve better performance, both on the client-side and server-side.

Otherwise, much of the back-ground was newly developed, because the technology behind it seemed outdated, or differed in mobile and computer applications, resulting in incompatibility in the long term.

Towards the end, we give the MacOS users special attention. Because: should the update window pop up, it's better to reject it. Due to security settings in MacOS, there are problems with the hot-keys, if you use the updater. It's best to wait until the new version is available in our download section, and update your client then.
14. July 2016, 15:31
TeamSpeak Client Update 3.0.19.x
What a rough time this is! TeamSpeak's client is being subjected to a variety of problems ever more often, leading to crashes. Client Releases 3.0.19 to 3.0.19.4 include almost exclusively fixes for potential crashes.
There are satisfied customers among users in Poland, Portugal and France: translations have been added in the corresponding local languages and are thereby hopefully extending use of the client to additional gamers.
Here's breaking news for all Windows XP users: Release 3.0.19.4 will be the last version of TeamSpeak to officially support XP. If therefore you are still using XP, you should slowly begin to think about an update and not continue to indulge in nostalgia because, as a wise man once said: "new is always better!" :-)
For all additional information, you can take a look at the
TeamSpeak Forum
Changelog. You can also download the latest update from us
in the Download section
.
23. October 2015, 18:54
TeamSpeak Client Update 3.0.18.2
TeamSpeak's developer team has once again published a new client update today and thereby further addressed the security problems.
The principal change has to do with the caching of pictures; beginning immediately, the names of the pictures will be hashed and then saved instead of arranging the pictures in subdirectories. If you would like to look at the other changes, please check
in the Forum
.
The download is available as usual from us at
in the Download section
.
11. October 2015, 13:20
TeamSpeak Client Update 3.0.18.1
Last evening, TeamSpeak's developer team published a new TS3 client intended solely to plug a security gap. Indeed, it had been reported to the team that there was a critical gap with which hackers could induce users of a TS3 server to download files without the users' knowledge.The security gap was classified as critical.
There are various possibilities for preventing exploitation of the gap. Either one sets the virtualserver_min_client_version to 1444491275, or one edits the min_client_version with the help of the database (UPDATE server_properties SET value = '1444491275' WHERE ident = 'virtualserver_min_client_version';) or one takes from all users the possibility of creating channels with a description. If you would like more detailed information on this, I would recommend the English article
on teamspeak.com
.
The new version itself is available from us at
in the Download section
.